IPLAS - collect the data
you need!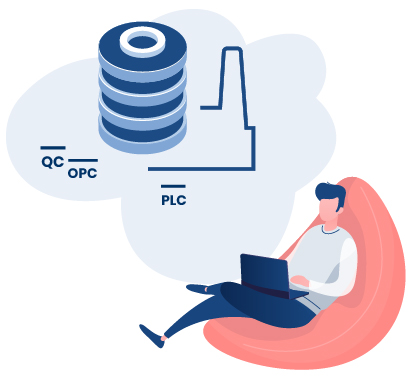 What to do with
production data?
In the production plant, valuable data can be found almost everywhere. The secret lies in knowing how to obtain it, how to safely store it and how to use it effectively. The collected information not only provides knowledge about the current state, but can become an important factor in modernizing the enterprise and increasing its efficiency.
Can I personalize the IPLAS production management system according to the specifics and needs of the company?
In order not to drown in the sea of production data, collect only the data that is most important and that you care about the most. The IPLAS system offers various data monitoring options. You can choose to track current values or use advanced analytical models, including historical data, limit values, and even enabling predictive analysis.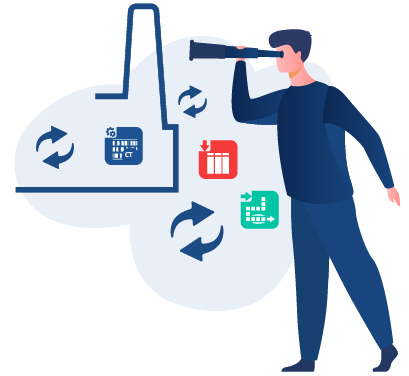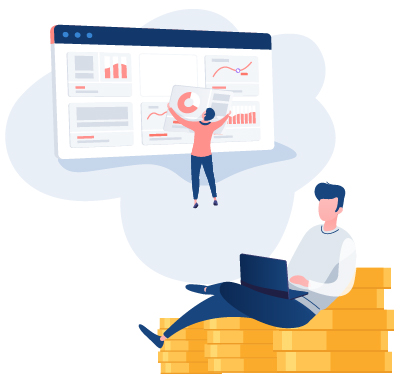 How can I use production data
with the IPLAS system?
It is good to collect data and process it, but it is not enough so as to maximize production efficiency and increase profits. The most important thing is to draw the right conclusions and make instant decisions. However, is it possible to do that with the multitude of variuos numbers and indicators? You probably won't be surprised that with the IPLAS system it is in fact possible! Configurable data processing (you decide what and how should be calculated) and clear visualization (tables, charts, dashboards, synoptic maps, etc.) make it easy to interpret the results and take the right steps to improve your factory.
How does the IPLAS production management system work?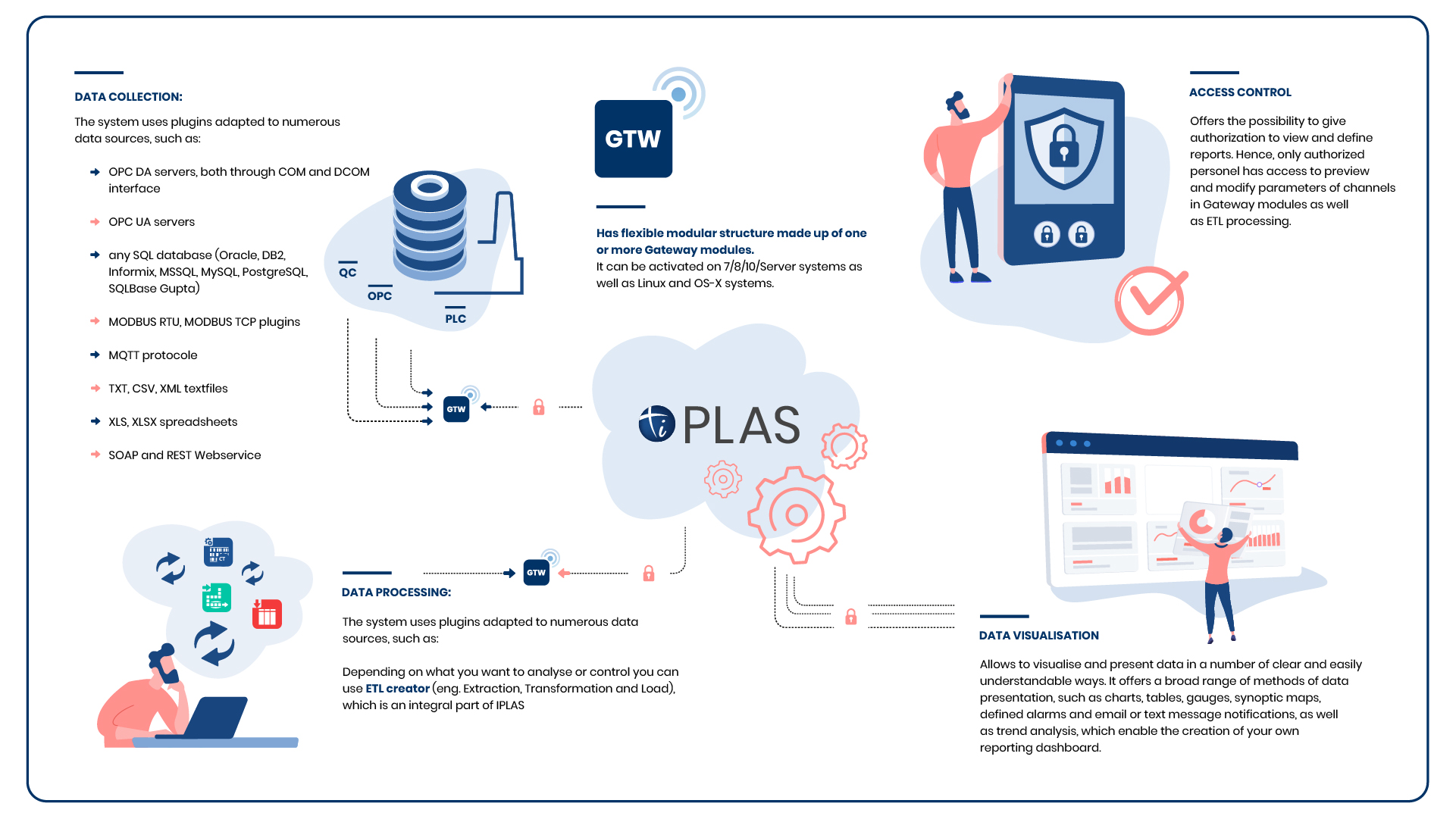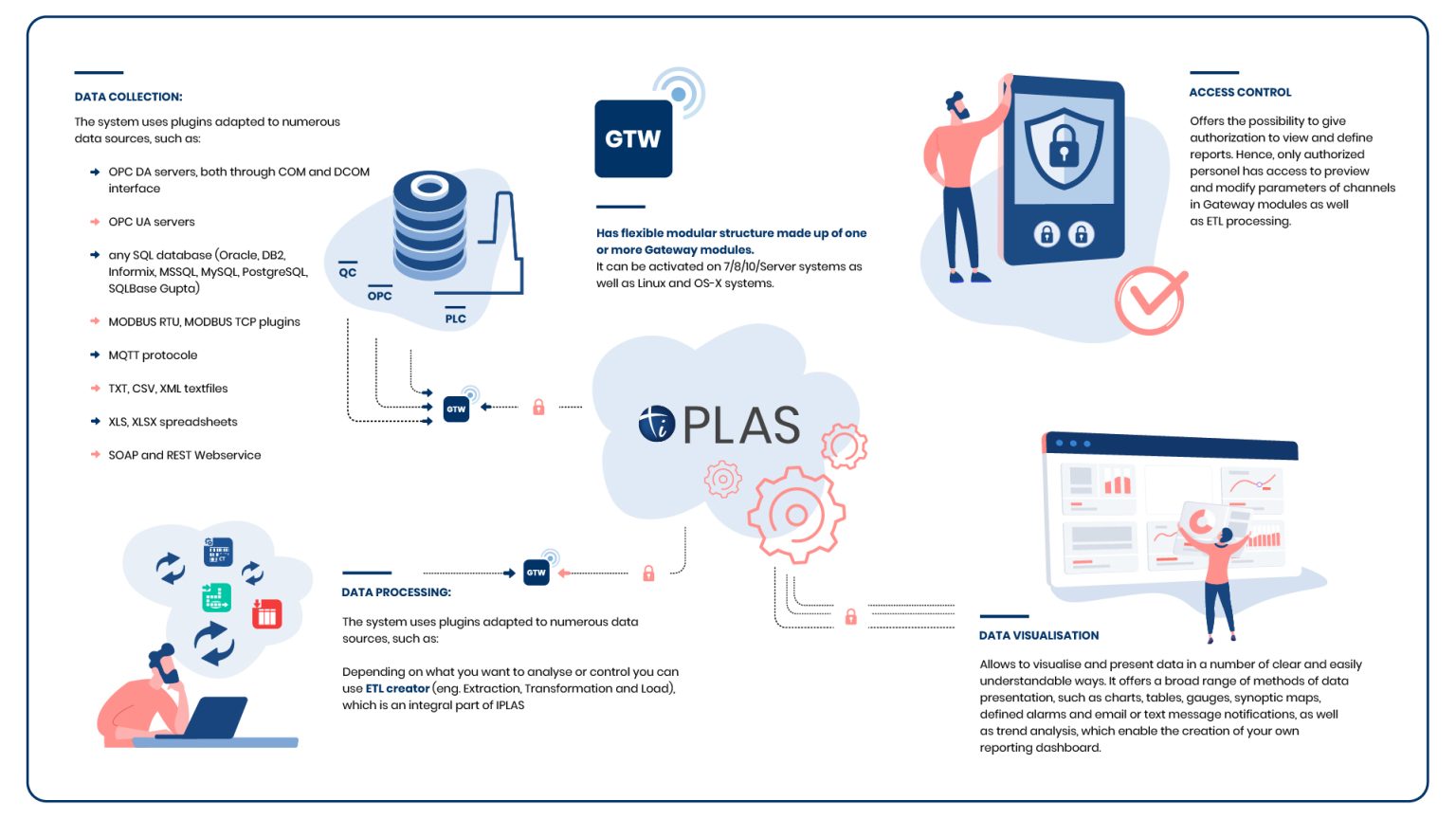 Test the system for monitoring
and optimizing production live
Of course, to meet the expectations of our customers, we have created a Demo version of the system.
You don't need to worry that using it will be difficult and time-consuming. You choose the level of advancement, and our assistant will guide you through the system.
Do you want to know more about how this Demo works – Details of the DEMO version.
And if instead of reading, you'd rather test it for free
In most production plants, data is obtained from many different sources. This also applies to your plant if:
you use various generations of devices and their components,

not all key information is stored in machine controllers and OPC servers,

data essential for the production monitoring process are delivered in many separate files. 
And these are just a few possible factors that determine the need to download data from various sources. 
We have designed the IPLAS system in such a way that it is not a problem! Thanks to the flexible structure, based on Gateway modules, using specially adapted plugins, you can efficiently download data from many different sources, such as:
OPC DA servers (via COM and DCOM interface) and UA,

SQL databases (Oracle, DB2, Informix, MSSQL, MySQL, PostgreSQL, SQLBase Gupta),


text files (TXT, CSV, XML),

spreadsheets (XLS XLSX),

Webservice services (SOAP, REST).
Do you use any other data source? We will adapt the IPLAS system to your needs, enriching it with additional plugs corresponding to your needs.
The security of your production data is our priority. We take this issue very seriously and make every effort to ensure that information regarding production in your plant is adequately protected. 
The IPLAS system uses the TLS data encryption method that meets the highest security standards in force – such as are used, for instance, in online banking. We also use X.509 certificates to protect sensitive production information.

IPLAS guarantees protection in the event of loss of connection between the Gateway modules and the system. In this case, the data is not lost because it is collected locally and automatically updated when the connection is restored. 

Regularly performed backups allow to protect your data against cyber-attacks and failures of IT devices. Information transferred to the IPLAS system is covered by the backup system available in the original form and computed by ETL processes. 

You decide who has access to your production data, which prevents it from falling into the wrong hands. Access to the system is possible only after verification, including the customer code, username and password. Data sent to the server is protected by HTTPS and TLS encryption.
In order to adapt to the needs of your plant, we have designed two solution options: the cloud or our own infrastructure. Discover the most important advantages of both options and the opportunities they give you.
 

Cloud

Plant IT infrastructure

How it works?

Cloud is a type of service that allows you to store data on a virtual server that is shared from outside.

 

We install all components necessary for the proper functioning of the IPLAS system in your infrastructure. The data does not leak out in any way.

It is for you if:

 

You do not want to invest in the development of your own IT infrastructure

You value the security of your data and the backups created.

You want unlimited access to your data and constant access to production information, no matter where you are and what device you use.

You are a supporter of traditional solutions.

The safety rules and regulations in force in the production plant do not allow the use of the cloud.

You have the appropriate infrastructure or you are ready to expand it.